International Education Week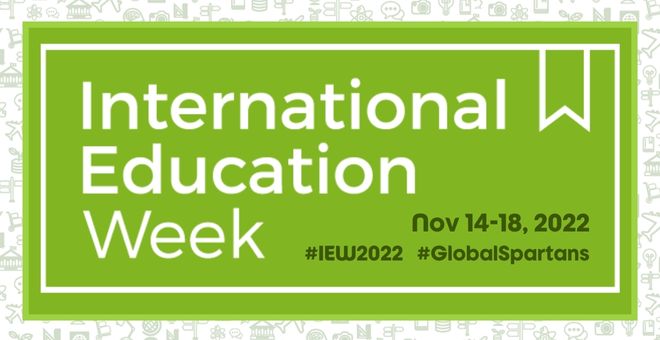 November 14 - 18, 2022
"International Education Week (IEW), November 14-18, 2022, is an opportunity to celebrate the benefits of international education and exchange worldwide. This joint initiative of the U.S. Department of State and the U.S. Department of Education is part of our efforts to promote programs that prepare Americans for a global environment and attract future leaders from abroad to study, learn, and exchange experiences."
- US Department of State
Join the Study Abroad & Away team on our contribution to the IEW activities at the College of Professional & Global Education. Register for each event to receive dial-in instructions or join if advised.
On Demand

Get Started - Study Abroad & Away 101


View the Study Abroad & Away 101 video to learn essential information about study abroad and away. All students should watch the video before applying for a program.
View Now

Book Advising Appointment


Do you have questions about studying abroad or away? Book an appointment with one of our study abroad team members.
Book Now

Monday

November 14, 2022

11 :00 AM - 1:00 PM

International Education Week Kick-Off


Join the College of Professional and Global Education (CPGE) in celebrating International Education Week from November 14-18, 2022! Stop by our table near Student Union West on Monday, November 14th from 11:00 AM-1:00 PM to learn more about the fun events we have planned. While you're there, take a spin at our prize wheel and sample international sweets!
7th Street Plaza
3:00 PM - 4:00 PM
Finding the Best Study Abroad Program for You!
Join us to discover all the amazing global experiences available to you at SJSU! We have programs for everyone: study abroad (international), and away (domestic), short-term (winter, spring and summer breaks), long-term (semester and year-long), virtual (throughout the year), Alternative Break Programs, community-based learning, and soon to be offered...international work integrated learning/internship programming. In this session we will provide an overview of all of our programming, discuss how a globally focused program can help you reach your personal, academic, and professional goals (and have a life changing experience), and show you how to navigate the application portal. You'll be one step closer to becoming a Global Spartan!
Register Now

Tuesday

November 15, 2022

12:00 - 1:00 PM

International Opportunities for Faculty


Please join us to discuss international opportunities available for SJSU faculty. We will introduce you to various ways you can engage and participate in global education opportunities, including but not limited to faculty-led programs or hosting visiting scholars. Learn about ways you can contribute and help promote internationalization of the SJSU campus!
Register Now
12:00 - 1:00 PM

Money Matters: Financing Your Study Abroad


Are you interested in studying abroad but not sure how much it costs or how to pay for it? Come join staff from the Study Abroad and Away office, as we break down different program costs, explain how you can use financial aid and scholarships to fund your program, and give valuable tips on budgeting and more!
Register Now
Visit the IEW website for more sessions
We have more information sessions, workshops, and activities on the Study Abroad & Away events calendar.
Events Calendar