Program Types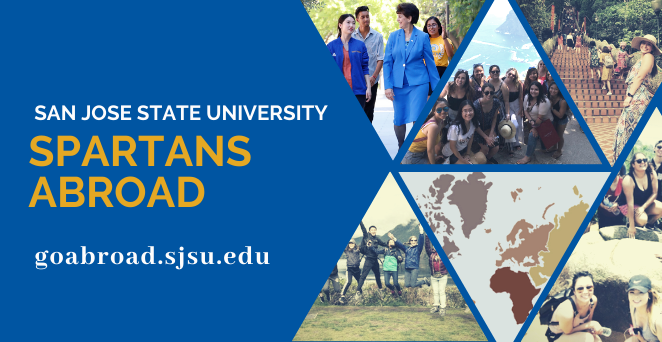 Whether you want to spend a year, a semester, or a few weeks becoming a global citizen, SJSU has a program that will provide you with an amazing opportunity to learn about different cultures and perspectives. Choose your adventure and see what the world has in store for you!

Go for a semester or full year!
Explore our long-term programs that allow you to go abroad for a semester or a year:
Type
Program Overview
Links

SJSU

Exchange
SJSU Exchanges enables students to study at a partner university abroad for a semester or a year. SJSU Exchanges are managed directly out of our office, and we partner with institutions around the world that have the best academic fit, course offerings, and international student services. These programs are only open to SJSU students, and you can choose from programs in over 20 countries (and growing). Study at a partner university with students from all over the globe, pay your regular SJSU tuition, and receive SJSU credit for every class you take. There are programs for every major, and all financial aid applies. There are even scholarships just for students who study abroad!
View Programs
CSUIP
California State University International Programs (CSU IP) provide students in the CSU system with an affordable opportunity to study abroad for a semester or year. Students earn SJSU credit while studying at a host university with local students or a study center with other CSU students. Affiliated with more than 30 recognized universities in 18 countries, CSU IP offers a wide selection of courses and study abroad destinations. In addition to taking major, minor, and GE courses, students also have the opportunity to participate in language and culture-focused programs. SJSU students participating in CSU IP pay SJSU tuition, and financial aid applies to all programs. CSU IP scholarship opportunities are also available!
View Programs
ISEP
SJSU is a member of International Student Exchange Programs (ISEP), a non-profit organization that offers study abroad options at over 200 universities in 51 countries. You can study with ISEP for a semester or a year! Immerse yourself in classes at local universities and receive SJSU credit for each course. ISEP costs vary depending on the program, and financial aid applies on most, but not all programs. Make sure you also check out the ISEP scholarships! If you are interested in studying abroad in a location that is off the beaten path, ISEP has the program for you.
View Programs
Go for a shorter experience!
Check out our short-term programs and study abroad from a week to a whole summer:
| Type | Program Overview | Link |
| --- | --- | --- |
| FLP | Faculty-Led Programs (FLP): Study abroad with SJSU faculty and classmates and earn SJSU credit on a Faculty-Led Program. Courses focus on a particular theme and are taught by SJSU faculty. Programs are typically 1-4 weeks long and take place during winter, spring and summer breaks. | View Programs |
| SSA | Summer School Abroad (SSA): Take classes at an international university for 2-4 weeks during summer break. With support from the Study Abroad and Away office, you get to travel independently while you earn SJSU credit and take classes with other international students. Update: 09/18/2023 | View Programs |
| ABP | Alternative Break Programs (ABP) - Explore another region of the United States or the globe and focus on learning about diverse cultures alongside SJSU classmates during spring and summer breaks. Programs are led by SJSU staff, often include service learning activities, and vary in length (1 week for spring programs and 1-3 weeks for summer programs). These are co-curricular programs and do not offer academic credit. | View Programs |