Program Types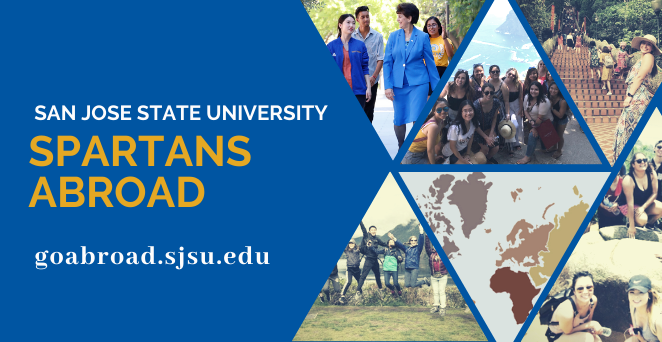 Whether you want to spend a year, a semester, or a few weeks becoming a global citizen, SJSU has a program that will provide you with an amazing opportunity to learn about different cultures and perspectives. Choose your adventure and see what the world has in store for you!

Go virtually!
Join an exciting virtual program connecting SJSU students with international students.
| Type | Why choose this program | Credit for CHHS | Extracurricular |
| --- | --- | --- | --- |
| VIP | Virtual International Partners (VIP) - Learn about another culture while communicating with an international partner for a semester-long virtual cultural exchange. You can earn academic credit (if within the College of Health and Human Sciences) or participate in an extracurricular program. | View Program | View Program |
Go for a semester or full year!
Explore our long-term programs that allow you to go abroad for a semester or a year:
| Type | Why choose these programs | Links |
| --- | --- | --- |
| SJSU Exchange | Pay your regular SJSU tuition and spend a semester or two abroad at one of our partner universities! | View Programs |
| CSUIP | CSU International Programs (CSUIP) – spend a year learning the ins and outs of a new country and culture through programs operated by the CSU system! | View Programs |
| ISEP | International Student Exchange Program (ISEP) – study in unique locations around the world through the ISEP provider! | View Programs |
Go for a shorter experience!
Check out our short-term programs and study abroad from a week to a whole summer:
| Type | Why choose these programs | Link |
| --- | --- | --- |
| FLP | Faculty Led Programs (FLP) – Faculty lead a cohort of SJSU students, teaching an SJSU course on a short-term program, all the while, experiencing a new culture, meeting locals, and doing your coursework as you go! | View Programs |
| SSA | Summer School Abroad (SSA) – experience an international university's summer school program with locals and students from around the world! | View Programs |
| ABP | Alternative Break Programs (ABP) - explore a new culture and do service as a volunteer in your host community | View Programs |